Priv. Doz. Dr. Aleksandar Matkovic
Senior Scientist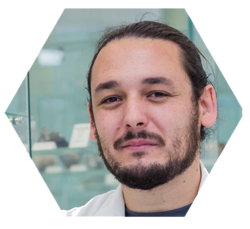 Dr Matkovic finished his PhD in 2015 at the University of Belgrade, on the topic of optical properties of graphene. After a postdoc at Texas A&M at Qatar, he joined MUL at the Institute of Physics.
Fellowships, Projects and awards:
2017 Lise Meitner Fellowship by the FWF on the topic of guided self-assembly on 2D materials.

2019 awarded a Joint Bilateral project ( 4 years duration) with Tomsk Polytechnics on the topic on 2D-nanoribbon fabrication.

In 2020 FWF START prize on magnetic 2D materials,

2022 an ERC Starting grant on the topic of 2D ferric insulators.
Since 2020, he is working as a Senior Scientist and a group leader (Matkovic's Lab) at MUL., and is an active member of the ÖAW Young Academy.
---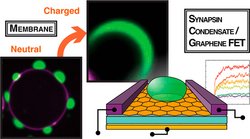 Electric Potential at the Interface of Membraneless Organelles Gauged by Graphene

Christian Hoffman, Gennadiy Murastov, Johannes Vincent Tromm, Muhammad Awais Aslam, Aleksandar Matkovic, Dragomir Milovanovic 2D_Mat_Lab
Eukaryotic cells contain membrane-bound and membrane-less organelles that are often in contact with each other. How the interface properties of membrane-less organelles regulate their interactions with membranes remains challenging to assess. Here, we employ graphene-based sensors to investigate the electrostatic properties of synapsin 1, a major synaptic phosphoprotein, either in a single phase or after undergoing phase separation to form synapsin condensates. Using these graphene-based sensors, we discover that synapsin condensates generate strong electrical responses that are otherwise absent when synapsin is present as a single phase. By introducing atomically thin dielectric barriers, we show that the electrical response originates in an electric double layer whose formation governs the interaction between synapsin condensates and graphene. Our data indicate that the interface properties of the same protein are substantially different when the protein is in a single phase versus within a biomolecular condensate, unraveling that condensates can harbor ion potential differences at their interface.