The Prize Winners at the ÖPG meeting including honorary member Prof. Anton Zeilinger.
Prof. Hansjoachim Schellnhuber, Potsdam Institut für Klimafolgenforschung, at the public evening talk.
The 71st Annual Meeting of the Austrian Physical Society - ÖPG 2022- took place in Leoben at the Montanuniversitaet Leoben (MUL).
The main organisation is carried by the Institute of Physics at the MUL and the Erich Schmid Institute ( ESI) of the Austrian Academy of Science (ÖAW).
Topic of this years ÖPG meeting was sustainability, which is not only illustrated by the "Energietag" and by the dedicated public evening lecture, but the conference venue itself:
Contributions
SyNergy_Mat_Lab
ÖPG Best Poster Prize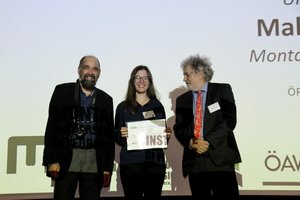 September 2022: Malina Seyffertitz was awarded the "Best Poster Prize" at the 71st Annual Meeting of the Austrian Physical Society (ÖPG-Tagung) held from 26th to 30th September 2022 in Leoben. The poster featured first results of a study using in-situ neutron small angle scattering on the working electrode of electric double layer capacitors during the charging and discharging conducted at the Institute Laue-Langevin in Grenoble, France.

Last December Max Rauscher won the cartoon challenge at the OEPG Conference 2022 in Leoben.
The prize was a honorary mug (which was also gifted to Nobel Prize Winner Anton Zeilinger at the OEPG Conference 2022) and was presented to Max at the Christmas party of the Chair of Physics by the new OEPG president Christian Teichert and Malina Seyffertitz as a representative of the Young Minds division of the OEPG (see image on the left).
2D_Mat_Lab